Flow Chemistry Europe 2023 (FCE-23) the 11th event of the Flow Chemistry Europe conference series
FCE-23 will comprise 2 days of scientific/technical content, featuring a variety of keynote speakers, oral and poster presentations, and an exhibition of the latest flow chemistry products and services. The conference will be in-person, and thus great networking opportunities will be made possible.
The topics covered during the conference gravitate around all important aspects of flow chemistry, including novel synthetic methods, automation/machine learning, continuous manufacturing in the industry, high throughput experimentation, photo and electrochemistry and chemical engineering.
We also encourage young scientists to submit their innovative results and unpublished work to the FCE-23 Poster Session. The best posters will be awarded.
FCE-23 will be truly unforgettable, nothing can really replace the in-person experience!
Mission statement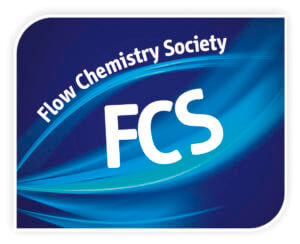 About 40 devoted scientists and researchers founded the Flow Chemistry Society (FCS) in the fall of 2010 in Switzerland with the goal of providing a self-organizing forum for flow chemists in both the academic and industrial sectors, raising awareness and educating the chemist community, stimulating advancement, and enhancing public appreciation of flow chemistry.
Since then, the Society has grown rapidly and gained respect both within Europe and internationally.
The FCS's mission is to stimulate the development of flow chemistry and its integration into everyday practice throughout the world for the benefit and progress of the chemistry community, including pharmaceutical, agro, fine-chemical, petro-chemical, fragrance industries, as well as in green chemistry and novel catalysis research.
The FCS also intends to foster the introduction of a new paradigm in organic chemistry by encouraging the transition of the current organic synthesis processes into a more rapid and continuous set of synthesis operations, which are more compatible with the sustainable world we envision.
The FCS is strongly devoted to promoting the implementation of this ground-breaking technology into laboratory practice, to encouraging contact between the scientists, and to facilitating the widespread dissemination of new findings.
The first Flow Chemistry Europe conference was organized in this spirit in 2011 in Munich, Germany in collaboration with Mr. Ken Browne's company SelectBioSciences. Since then, we've held a conference every year with a few exceptions, with a steadily growing interest. Each conference presents a Best Poster Award to a young scientist whose findings are novel and relate to an engaging area of the discipline.
In addition to the regular conference program, an Industrial flash-presentation session will be held, where the exhibitors will introduce their chosen products/services.