Hotel & Conference venue
Hotel Ilunion Malaga is located at P.º Maritimo Antonio Machado, 10, 29002 Málaga, Spain.
Car Park
Parking is free for all hotel guests.
Wi-fi
There is free Wi-Fi internet access to all hotel guests.
Electricity
The electricity is the European standard: 220-240 V, 50 Hz. Japanese, UK, USA and other visitors: please note that in Spain a Continental European German-style CEE7/4 sockets ("Schuko sockets") are used, which also accepts CEE7/16 "Europlugs".
Foreign exchange, banking facilities
The official national currency in Spain is the Euro (EUR), and all major credit cards are accepted. Currency exchange services are available at various locations, including Málaga Airport, the Málaga María Zambrano main railway terminal, banks, hotels, and exchange offices within the city. Please note that exchange rates may vary. ATM machines are widely available throughout the city at all banks, and there are also several foreign ATM options. However, it's advisable to check the associated fees, as they can be quite high.
Emergency services
The emergency number in Spain is 112 (no area code needed). Call 112 for police, ambulance, fire services or coastguard if you find yourself in an emergency situation in Spain. The responder will speak a number of languages.
Getting there
By Plane
Malaga – Costa del Sol airport (AGP) is an airport with domestic and international flights, connecting more than one hundred European cities. It is situated 8 kilometres from the city of Málaga. It is the fourth largest airport in Spain in terms of air traffic.
Arrivals at the airport: The airport arrival terminal is well organized and signposted. It has a lobby for arrivals, baggage claim tapes, customs, shops and restaurants among other facilities for the visitor.
The arrivals area is always located on the ground floor of the airport and is divided between Terminal T2 and Terminal T3. Flights coming from non-Schengen countries usually arrive to Terminal T2 although all passengers will leave through Terminal T3 regardless of their flight origin.
Departures from the airport: The Malaga airport departure terminal is located on the first floor.
Malaga airport has self-check-in machines, you can also check in online or using your airline's mobile applications.
It is officially recommended to check-in at the airport at least 3 hours earlier if you are taking a non-Schengen flight and 2 hours if your flight is to an EU destination.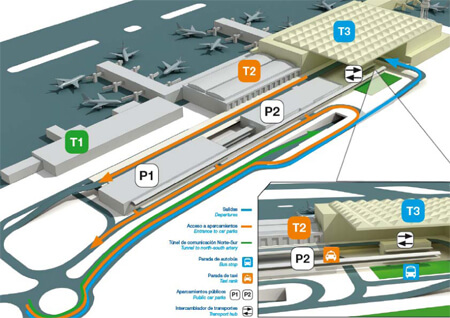 Transportation options from the airport
By train
Malaga airport train station is situated right in front of terminal 3 at Malaga airport. After exiting the arrivals hall, you should go along the left side of the road, the train stop is less than 5 minutes' walk. You can take from there a suburban train (Renfe: https://www.renfe.com/es/en) to Malaga city train station Maria Zambrano which is connected to all over Spain.
This is the most convenient transportation option to Hotel Ilunion. You can reach the train station Maria Zambrano from the airport in about 8 minutes, with a ticket cost 1,80€. Maria Zambrano is only 500 meters from the hotel. Tickets can be purchased either from the ticket machine or by simply tapping your credit card on the ticket gate (turnstile) both at entry and exit.
The frequency of the trains is every 20 minutes. The first train leaves at 6:44 am and the last train at 00:54am.
If you miss your stop, you can exit at the next station, the Malaga Centro Alameda station (end of the line), which is about 700 meters from the hotel.
By bus
The bus line A Express, with a frequency of about every 25 minutes, connects Malaga airport with the bus station and the Paseo del Parque in the city centre, though it is advisable to get off the bus at Malaga city train station. Tickets cost 4.00€.
After leaving the arrivals terminal you will find a bus ticket counter. The bus stops are located in front of the arrivals area of Terminal 3.
By Taxi
The official taxi company is Malaga Airport Taxi. Taxis are located on the right after leaving the arrivals terminal. The total fare from Malaga airport to the city centre is around 25€, and will take 15 minutes. All taxis have a meter so you can see exactly the price you have to pay. Luggage and packages larger than 60 cm cost 45 cents extra per item.
Getting around Malaga
As with any large city, transport options around Malaga are abundant. The public transport in Malaga is made up mainly of buses, although the Metro Malaga has reached the city center (Atarazanas station) and offers some alternative stops. In addition, the Malaga suburban trainswith their two lines (C1 and C2) connect Malaga with Fuengirola and Álora.
Further information visit: https://www.andalucia.com/cities/malaga/getting-around.htm